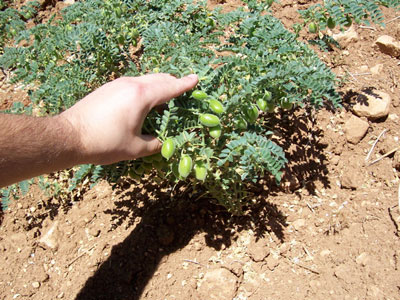 How do you say "chickpeas" in Arabic?
When I was on an archaeological dig in Tunisia, in North Africa, we were out exploring and came across a young man harvesting chickpeas. He came over and offered us some in the palm of his hand, and we ate them – yum! Fresh chickpeas! He didn't really speak any French, so we asked him how to say "chickpeas" in Arabic. "Hummus," he answered – and wondered why we all started laughing. Of course, "hummus". What else would chickpeas be called?
How to make hummus:
Soak 1/2 pound of dried chickpeas from dinnertime until the next morning. After breakfast, drain the chickpeas but keep the soaking liquid. In a food processor, mix one pound of chickpeas (16 ounces), 1 1/2 tablespoons of tahini, the juice of one lemon, 2 cloves of garlic, a large pinch of salt, and 1/4 cup of olive oil. When they're all blended, slowly add the soaking liquid until the hummus reaches the right consistency.
Vegetarian or vegan
Hummus is entirely vegan, and so are the crackers.
Can I keep hummus for later?
Hummus will be better the next day, but it doesn't keep more than a week in the refrigerator, and it doesn't freeze well.