Why make salsa?
You can get good-enough salsa from the grocery store, and it's not expensive either, but even fancy store salsa does have a bunch of extra salt and sugar in it that you don't need. You can have a much healthier salsa by making it yourself at home, and it's not that much work. Here are two recipes, an easy one and a harder one:
How to make Quick Salsa:
Empty a can of diced tomatoes into a bowl. Add two tablespoons of white vinegar or lime juice, a large pinch of salt, black pepper, red pepper flakes, chopped cilantro, chopped onion, and chopped garlic. Mix and serve.
A medium quick salsa
Thanks to my sister – slice tomatoes and peppers and lay them out on a cookie sheet with some cloves of garlic. Broil until browned. (You'll need to take off the peppers and garlic first and let the tomatoes go longer.) Blend them all together and add a squeeze of lime juice.
How to make Salsa – cooked:
Put six whole jalapeno peppers and two whole red bell peppers into a hot frying pan. Let them roast over medium-high heat, turning them once in a while, until they begin to blacken on all sides, about ten minutes.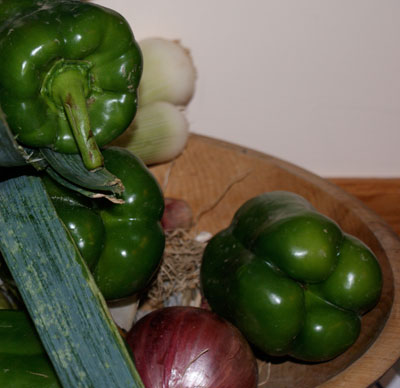 Let the peppers cool a bit, cut off their stems, and compost the seeds. In a food processor (or by hand), chop up the peppers along with one onion, eight cloves of garlic, and 1/4 cup of olive oil. In a large saucepan, heat another bit of olive oil, and pour in the chopped peppers and onions and garlic. Saute over medium heat until the peppers are soft but not brown. Meanwhile, cut ten good tomatoes into quarters, and squeeze the seeds out and compost them. (If it's not tomato season, don't bother with this recipe.)
When the peppers are soft, add the tomatoes, mix, and continue cooking until the tomatoes are soft and beginning to take up less room in the pot, about five minutes. Meanwhile, chop one bunch of cilantro.
When the tomatoes are done, add the cilantro along with the juice of one lime and 1 teaspoon of salt. Keep simmering, cooking off the water, until the salsa is as thick as you want it to be. Taste and add more salt if needed. Let the salsa stand and cool for a while to come to room temperature before serving.
Vegetarian or vegan?
Naturally vegan, and delicious with crackers or corn chips and guacamole, or with nachos. For a good summer breakfast, have scrambled eggs or tofu scramble with salsa.
How to keep salsa
The whole point of salsa is that it keeps; this homemade salsa will keep for a couple of weeks in the refrigerator. The salsa you've made to store for winter you should freeze in small tupperwares, and thaw in the refrigerator as needed.