Riding around in the Abruzzo hills of Italy
I spent one fall with my friend Kay riding motorcycles up in the hills around Rome – well, we rode on the back of the motorcycles like girls, and our Italian friends Paolo and Alberto drove the motorcycles. That's a lot easier!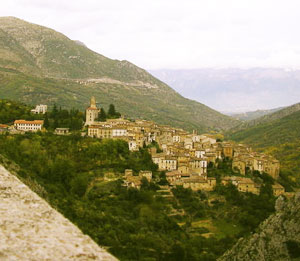 When we stopped for lunch, Paolo would often make a small fire, take bread out of his saddlebags, slice it thick and soak it with olive oil, and toast it over the fire. When it was toasted, we sprinkled salt and thyme on it and ate it hot. What a great lunch!
Alberto and I ate thyme bread in the fall, when there's plenty of thyme growing. Try it also with rosemary, as in this picture.
How to make thyme bread:
Bake or buy a loaf of thick crusty bread. Turn on your broiler in the oven. Cut slices about an inch thick, and put them on a cookie sheet. Use a pastry brush to brush a liberal amount of olive oil on each slice. Sprinkle with kosher salt (coarse salt). Pick fresh thyme or rosemary in your yard or buy some at the store.
Broil these for about ten minutes in the oven, or until they begin to turn brown around the edges. Watch them carefully so they don't burn! Eat them hot out of the oven.
Vegetarian or vegan
Just naturally vegan! Enjoy!
Can I keep this for later?
Nope. This one you have to eat while it's still hot. Later, the bread will be soggy and bitter.