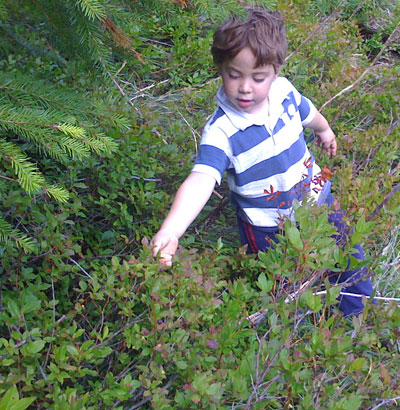 Better than my mother's oatmeal
My mother was a good mother and she made us good hot bowls of oatmeal every winter morning and we hated it. Her oatmeal was terrible: gloppy stuff like jello. Then I got married, and my husband made oatmeal, and it was nothing like hers at all – this oatmeal was delicious! All our kids like it too. After some investigation, the secret turns out to be to use water rather than milk, and not too much water, and not stirring it while it is cooking. Who knew?
How to make oatmeal:
Put a half cup of old-fashioned rolled oats in a cereal bowl. Mix in a pinch of salt and a handful of raisins (if wanted). Pour a half cup of water over the top. Do not mix. Microwave for one minute. Remove, stir, and eat.
Some things to put in your oatmeal:
I like to just add raisins or huckleberries. The kids like a tablespoon of butter and a tablespoon of brown sugar. You can also add maple syrup, or honey, or walnuts, or almonds, or cinnamon (or any combination of these). Or apple slices, banana slices, or peaches, or any other kind of fruit.
Vegetarian or vegan
Just naturally vegan! Enjoy! You could make it not-vegan by pouring milk on it, but really, why would you want to?
What can I do with leftover oatmeal?
I'm glad you asked, because you can make delicious oatmeal cakes with salmon and spinach for dinner!