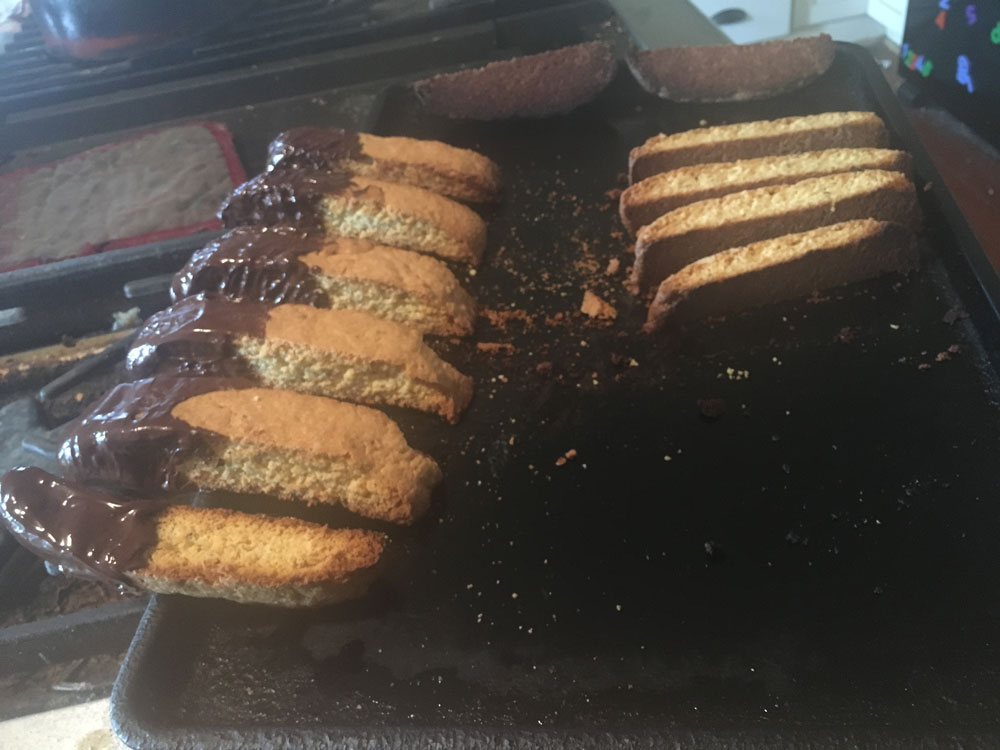 Delicious cookies
Biscotti are a kind of Italian cookie. They're called "biscotti" because you cook them twice ("bis") – once to bake the loaf, and again to toast the slices.
How to make biscotti:
Preheat the oven to 375. Grease a cookie sheet with butter. In a medium mixing bowl, mix 1 3/4 cups of flour, 1/2 cup sugar (or less if you don't like things sweet), and a heaping teaspoon of baking powder. Grind or crush about 1/4 cup of fennel seeds and a pinch of black pepper and add those. Mix, and add 2 eggs and 1/4 cup of olive oil. Mix until it forms a ball.
Put the ball of dough on the cookie sheet and use your hands to shape it into a log almost as long as the cookie sheet. Squash it down until it is about 1/2 inch thick and about four inches wide. Let it slope down at the sides, as biscotti do. Bake at 375 for about half an hour, or until browned.
When you take it out, slice the hot biscotti with a pizza slicer or a knife, into slices about 1/2 inch wide. Turn those slices on their sides and bake another 15 minutes, or until toasted. You might need to turn them over to toast them on the other side, but I didn't. Take them out of the oven and let them cool.
If you want to dip some of them in chocolate, put half a cup of dark chocolate chips in a small bowl with a pat of butter and microwave on half power for two minutes. Stir until melted, and dip the biscotti in (you can use a spatula to help spread the chocolate). Leave in a cool place until the chocolate is hard.
Vegetarian or vegan
Sorry, not vegan because of the eggs and butter, but they are vegetarian. For a vegan dessert, try this vegan chocolate mousse.
Can I keep this for later?
Sure. Biscotti will be fine for a week or so in the fridge, or even in a bag on the counter.