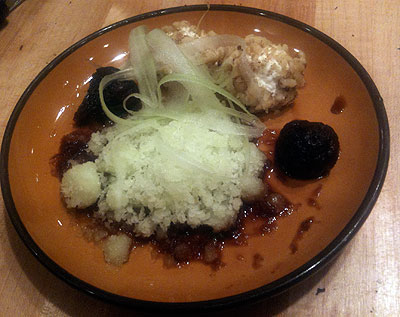 A fancy early-spring dessert
The first edible plants that grow in the spring are stems – because stems are what plants grow first – like chives and celery. This is a simplified version of a New York Times recipe: a dessert made out of nothing much more than celery and sugar. It requires practically no cooking skills, and it tastes like springtime itself.
How to make Celery Granita:
Wash the dirt off a bunch of celery, and chop about half a bunch into small pieces. Save the other half for celery-mushroom soup, setting aside one stalk for garnish. Put 1 1/2 cups of sugar in a small bowl with 1 1/2 cups of water and microwave for a minute or two, until the sugar is dissolved, stirring occasionally.
Pour the sugar and celery in the blender with the juice of one lime and a pinch of kosher salt. Blend (working in batches if necessary).
Spread the celery mush out in a glass pie pan and put it in the freezer. Stir every half hour, breaking up the ice crystals, until it is all frozen – about two hours. Serve in small mounds. Use a vegetable peeler to shave off long curls from the remaining celery stick as garnish on top of the granita.
Make figs and goat cheese balls to go with it:
Put 1/2 cup sugar, 1 cup of water, and the zest of half a lemon in a bowl and microwave for one minute, or until the sugar dissolves in the water, making a sugar syrup. Put a cup of dried figs in the bowl and set it aside while the celery granita freezes. When the celery is almost done, drain off the sugar syrup from the figs and pour 1/2 cup of balsamic or wine vinegar over the figs, and let them sit until you're ready to serve the granita. Serve two or three figs on the side of each serving of granita.
Stone metate to grind the nuts
In another small bowl, mix 2 tablespoons of honey, 1 tablespoon of water and a pinch of salt. Microwave until the honey melts. Sprinkle one packet of gelatin powder over the hot honey and stir until it dissolves, heating again if necessary. Mix 1/2 pound of goat cheese with the gelatin mixture. Form the cheese mixture into balls about the size of superballs.
Put 1/4 pound of hazelnuts or walnuts in a stone metate and crush into crumbs. (Or, put them in a plastic bag and crush with a rolling pin). Roll the cheese balls in the nuts, put the cheese balls on a plate, and refrigerate until the celery granita is done freezing. Serve one cheese ball with each serving of granita.
Vegetarian or Vegan?
This dessert is entirely vegetarian; it's vegan and lactose-free if you leave out the goat cheese balls. Instead, sprinkle the crushed nuts on top of the celery granita.
Will it keep?
Not really.