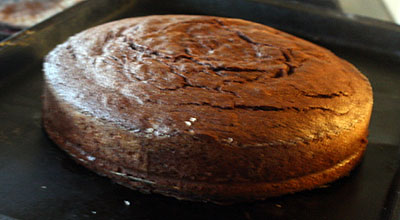 The best chocolate cake ever
A few years back, I went to a Christmas party at a friend's house, and everybody brought something. Our French friend Valerie brought this French chocolate cake, and it was so extremely delicious that after that party practically every single woman asked Valerie privately for the recipe. So every time we went to anybody's house for dinner, or to any party, for months afterwards, you could be sure somebody would make this chocolate cake. Still, we didn't really get tired of it, because it was so good! In our family, we call this chocolate cake Valerie cake, in her honor, though I have changed the recipe a little over the years.
I bet it's not really good for you, though
As cakes go, this one is mostly eggs and chocolate, and relatively little butter and sugar. Still, it's not health food. Eat a small slice once in a while. Bring it to parties and share!
How to make Valerie cake:
Preheat the oven to 325 F. In a medium-size mixing bowl, put 3/4 cup of sugar and a couple of spoonsful of water and microwave one minute, to dissolve the sugar. Add a bag (ten ounces) of dark chocolate chips and 1 cup (two sticks) of unsalted butter. Microwave the chocolate and butter with the sugar syrup for 2 minutes or until the mixture is mostly melted, then take it out and stir with a wooden spoon until it is all melted. Add 2 teaspoons of vanilla and mix. Then add 1 cup of flour and mix again.
Meanwhile, separate five eggs. Add the five egg yolks to the chocolate batter. Take out a springform pan and butter the inside, and then put a tablespoon of sugar inside and swoosh it all over the greased area. Between them, the butter and sugar will help keep the cake from sticking and help it rise higher.
Beat the five egg whites to stiff peaks with an electric beater (or by hand if you really want to), adding 1/8 cup of sugar and a pinch of salt to help them get as stiff as possible. Gently stir the beaten egg whites into the chocolate batter. Pour the batter into the springform pan and bake for about 45 minutes. Leave it in a few minutes longer if you want it to be cake all the way through; take it out a little sooner if you want it hot and runny in the middle. Remove the sides of the springform pan to cool. Sift confectioner's sugar (powdered sugar) over the top to make it look pretty.
For added excitement, take our a pint of those frozen raspberries you put in the freezer last summer (or get some at the store). Put them in a bowl and microwave them for two minutes, or until they are all mushy and warm (It helps to stir them half-way through). Serve raspberry sauce on top of each slice of cake.
(If you want to, you can reduce the butter by adding a half-pint of raspberry jam to the batter instead of one stick of butter. But know your audience.)
Vegetarian or vegan
Just naturally vegetarian! Enjoy! If you want a good vegan chocolate cake, use this recipe instead.
Can I keep this for later?
Sure. This cake will be good for a day after you make it. But it will get stale if you keep it longer than that.