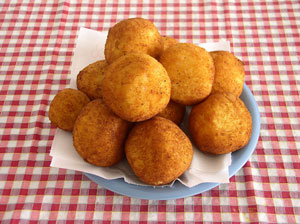 Arancini are usually food-cart street food, because they're usually deep fried and most people don't deep fry at home. But these are also good, and they're just baked in the oven – no deep frying required, and you don't have to go out to the food cart either!
How to make arancini:
This is a traditional way to use up leftover rice, and it will save you a little cooking time and make forming the arancini easier if you do have leftover rice, but it's not necessary. You'll need about two cups of leftover rice. Or begin by making rice: 2 cups of water and 1 cup of rice in a small saucepan; stir once and then cook covered over a high flame until it boils, then reduce heat to low and cook – still covered – until the water is all absorbed and the rice is soft. Keep an eye on it so you can turn it off as soon as the water is all absorbed. Meanwhile, do your prep: get out a baking sheet and pour a small puddle of olive oil on it and spread it around. Cut half a pound of good mozzarella into small cubes (you can also put other fillings if you like: shredded ham, chopped greens, peas). Pour some breadcrumbs on to a small plate.
When the rice is done, transfer it to a mixing bowl and let it cool a few minutes. Preheat the oven to 350. Add 1/4 cup Parmesan cheese, 1/4 cup breadcrumbs, and two eggs and stir quickly with a wooden spoon before the egg scrambles. Stir a lot, mashing a little so the rice becomes mashed together.
Use a metal spoon to scoop out a ball of the rice mixture, and put it in the palm of one hand. Use the other hand to flatten the ball, and place a cube of cheese in the center. Mush together the rice around the cheese, then roll the ball in the breadcrumbs and place on the greased baking sheet. Repeat until you've made all the rice into balls. Use a pastry brush to paint all the balls with olive oil (you can just brush it up off the baking sheet). Bake for ten minutes at 350, then broil for another five minutes or until the balls are lightly browned. Keep an eye on them so they don't burn, and don't put them too close to the broiler or the olive oil will burst into flames. They won't be as golden as in this picture – the ones in the picture are deep-fried.
Spicy tomato sauce
While the arancini are baking, saute some chopped onions and garlic in olive oil. Add red pepper flakes to taste and cook one minute, then add a can of tomato sauce and simmer until the arancini are done. Serve alongside the arancini for dipping.
Vegan/vegetarian/gluten-free?
Vegetarian for sure. For vegan or lactose-free, use a meltable vegan cheese. For gluten-free, substitute gluten-free breadcrumbs.
Can I keep this for later?
Sure. Put the leftovers in a tupperware in the refrigerator, and the flavors will blend and it will be even better than it was at first. You can reheat the arancini balls and the sauce in the microwave all week.