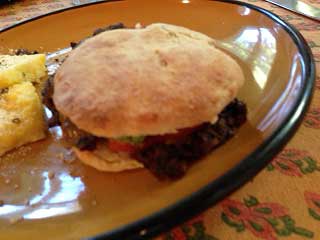 Sometimes in the summer it just seems like burger time, maybe with corn on the cob, but what if you don't want to eat beef? These bean burgers are great with ketchup, mustard, pickles, slices of tomato, lettuce, or whatever you like to put on your burgers.
How to make bean burgers:
After breakfast or lunch, put 3/4 cup of dried black beans in a bowl with a lot of water to soak. About an hour before dinner, pour the beans and water into a saucepan, bring to a boil, and simmer until the beans are soft, about half an hour.
While the beans are cooking, make the buns. In a medium size mixing bowl, mix 3 cups of flour, 2 teaspoons of instant yeast, 1 teaspoon of salt, 1 tablespoon of sugar. Add 1/3 cup olive oil, 1 cup water, and an egg, and mix. Turn out of the bowl on to a floured surface and knead for a few minutes. Divide the dough into eight balls. Put the balls on a greased baking sheet and flatten them just a little, to the shape of hamburger buns. Let the buns rise while you preheat the oven to 425.
Now make the burger mix. Drain the water out of the beans. Heat 1/8 cup of olive oil in a large frying pan. Chop an onion and three mushrooms and fry them in the oil. When the onions are soft, add them and the mushrooms to the beans and mash the mixture up with the back of a wooden spoon or a potato masher. Add salt, pepper, a pinch of cayenne, and a handful of parsley if you want. Add an egg (which will help stick it together) and a handful of breadcrumbs. Mix it up.
Now put the buns in the oven. While the buns are cooking, fry the burgers: Add more oil to the pan if needed. Form the mashed beans into burgers with your hands. Fry the burgers about five minutes until they're browned on one side, then flip with a spatula and brown some more (they're already cooked so it doesn't matter how long they cook, but they'll taste better browned in oil). If you want cheeseburgers, top with cheese as soon as you flip them, and put a large lid over the frying pan to hold in the heat and melt the cheese.
Serve with lettuce, tomatoes, avocados, onions and peppers, ketchup, mustard, or whatever you like on your burger. We like this with microwaved corn on the cob, or with a green salad.
Vegetarian or vegan?
Naturally vegetarian, but not vegan because of the eggs in both buns and burgers.
And will these burgers keep?
The burgers will be fine the next day, but the buns get stale.