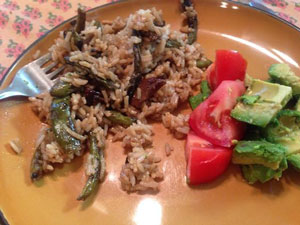 Another use for string beans
If you have a lot of string beans in your garden and you've already made Greek String Bean Stew and Salade Niçoise, this is another good choice.
How to make Beans and Beef Stir-fry:
Break the tips off about a quart of string beans. Put a cup and a half of rice in a small saucepan with three cups of water, cover, and bring to a boil. When the water boils, reduce heat to low and simmer until all the water is absorbed.
Meanwhile, heat a little vegetable oil in a wok over medium heat. When it's hot, add the string beans and stir. Chop two mushrooms and add to the wok, and stir. Stirring frequently, add two chopped cloves of garlic, a quarter cup of soy sauce, and a tablespoon of brown sugar. Slice 1/4 pound of steak thinly and add that. When the rice is done, add the rice too, toss, and serve.
Vegetarian or vegan?
Vegan unless you add the beef at the end; then it's not. Either way, it's lactose-free and gluten-free.
And will this stir-fry keep?
Yes, it will be okay for a few days afterwards.