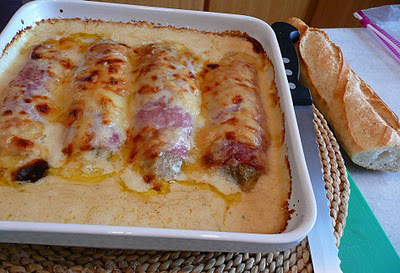 Eew, endives? Isn't that some weird foreign food?
Well, it's not the most ordinary American food, but in France people think of endives as perfectly normal, regular food. Children eat them. Think of them as small cabbages, or thick asparagus. My kids loved these braised endives – generally kids like soft cabbage, and of course broiled cheese and ham don't hurt! In fact, if you can't get endives or they are too expensive, this recipe would work just as well with a cabbage cut up into chunks.
Braising cabbage chunks
How to make braised endives:
In an oven-proof frying pan, like a cast-iron skillet, place six whole endives with just the tough outer leaves stripped off. Add four cups of chicken stock with a pinch of salt and pepper, or water with a spoonful of miso if you want them vegetarian/vegan. Add the juice of a lemon. Cover and simmer for about half an hour, until the endives are soft.
Meanwhile, grate 8 ounces of Gruyere cheese (or Swiss will be cheaper, but try to get Gruyere). When the endives are soft, lay thin slices of ham or chunks of bacon over the top of each one, and sprinkle the grated cheese over that. Run the whole skillet under the broiler for about 5-10 minutes, until the cheese is melted and brown, and serve hot.
Vegetarian or vegan
Braised endives are a meat thing, but you can easily make them vegetarian by leaving out the ham. If you leave out the cheese and the broiling, too, then they are vegan. They're delicious that way, perhaps with fried potatoes or rice on the side.
Can I keep braised endives for later?
We didn't have any left over, but yes, they'd be fine the next day for lunch. They won't freeze well though.