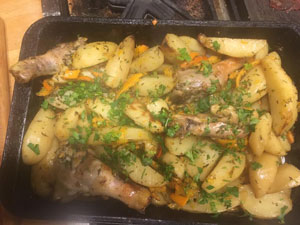 Another one from Ottolenghi
This recipe was originally from Yottam Ottolenghi's Jerusalem cookbook, where he does it with fennel root instead of potatoes and arak instead of wine, and serves it over rice or bulgar. That might be interesting to try sometime, but this is a one-pot meal, and I was able to make it with things I had in the house, rather than going shopping for the fennel root and arak, and letting things marinate overnight.
How to make chicken with clementines:
Preheat oven to 475. In a regular soup bowl, mix 1/2 cup white wine, 1/2 cup olive oil, a handful of thyme, 2 tsp mustard, the juice of half a lemon, the juice of a clementine, 1/4 cup of brown sugar, salt and pepper, a handful of crushed fennel seeds.
Now take a 9×12 roasting pan or any casserole, and put pieces of raw chicken in it – I used drumsticks, but any chicken would be fine. Add a bunch of peeled potatoes, quartered into thick wedges. Slice four clementines with their peels on into thin slices, and mix the chicken, potatoes, and clementines all together. Pour the sauce over the top. Bake at 475 until the chicken and potatoes are done, mixing a couple of times to be sure all the potatoes get done evenly and have sauce coating them. It will take about 45 minutes; the potatoes should be at least a little puffy and browned. We ate it as soon as it came out of the oven, with 1/2 cup chopped parsley sprinkled on top, but Ottolenghi suggests draining off the extra sauce and cooking it down to make a syrup, and then pouring that over the top before the parsley.
Raw spinach/arugula salad or sauteed spinach makes a good side, with vinegar or tahini sauce.
Vegetarian or vegan
This is a meat dish, but you could totally substitite tempeh for the chicken and it would be delicious, vegan, and gluten-free.
Can I keep chicken with clementines for later?
Yes, it would be even better reheated the next day.