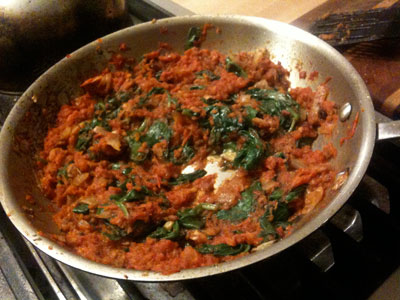 Canned chickpeas or dried ones?
Yes. Really, it depends how organized you are. Dried chickpeas are cheaper, and they aren't canned so you don't have to worry about cancer-causing bpa in the can lining. But you have to remember at breakfast to soak them for dinner. If you forget, use the canned kind. Or make spaghetti, and soak the chickpeas for the next day.
How to make chickpeas with polenta:
In a medium-sized saucepan, heat 1/4 cup of olive oil over medium heat, and then saute a chopped onion in the oil until it is soft. Add 3 cloves of minced garlic, 1 teaspoon of cumin, a teaspoon of coriander, a cup of frozen tomato sauce from last summer (or a tablespoon of canned tomato paste and a cup of water), and a large pinch of salt. Cook, stirring, for 1-2 minutes. Add the soaked chickpeas, a cup of water or leftover chicken or miso soup, 1 teaspoon of cayenne pepper, and bring to a simmer. (Or use a drained can of cooked chickpeas, and don't add any water). Cover, reduce the heat to low, and simmer for ten minutes.
Meanwhile, prepare the polenta. Put four cups of water in a large saucepan and bring the water to a boil over high heat. When the water boils, slowly pour in 1 1/4 cups of polenta (coarse-ground cornmeal), stirring constantly. Let the polenta cook for about two minutes over medium-low heat, and then it is done. If you want more solid, sliceable polenta, spread it thin on a cookie sheet to cool.
Go back to the chickpea sauce and add a bunch of spinach or other greens, a handful at a time, until it is wilted. Simmer uncovered for five minutes while you finish the polenta. Taste and add salt and pepper as needed.
Vegetarian or vegan?
Yummy and vegan, unless you use chicken soup for the broth. A good meal to have for dinner as a family, or to serve when people come over. You can have it simmering when the guests arrive, and serve it whenever you like.
Can I keep this for later?
Yes, like most stews this one will taste better the next day, when the polenta will be more solid and the flavors of the chickpea stew will blend better. It won't freeze well though.