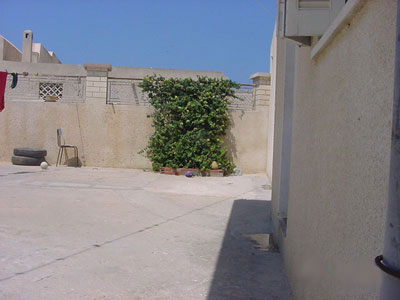 Embarrassing Cooking Moments, Take 1:
I'm spending the summer in Tunisia, and I'm cooking couscous for my family, because that's mainly what people eat in Tunisia. So I'm boiling water and couscous in a saucepan, and our landlady, Zachia, walks in, and she thinks it's so funny that I'm boiling couscous instead of steaming it. I try to explain that since I'm only here for a couple of months, I don't have a steamer, but she can't resist passing this nugget on to all the women in the village. For the rest of the summer, every time I leave the house, it's all women whispering behind their veils, "That's that American lady who boils her couscous!"
How to make Couscous:
Cut up two zucchini, two carrots, and two bell peppers into strips. Pour 1/4 cup of olive oil into a medium-size frying pan, and cook over medium-high heat until the vegetables soften and are somewhat browned.
Meanwhile, put a kettle or a saucepan of water on to boil. Put two cups of dry couscous in a medium-size mixing bowl. In a small bowl, mix a cup of tomato sauce with 1/4 cup of olive oil and a tablespooon of harissa (a Tunisian hot sauce) or chopped jalapenos or a teaspoon of cayenne (or just leave out the hot part if you want). Add a can of drained chickpeas (or make chickpeas from dried beans). Mix well and let the sauce sit. When the water in the kettle boils, pour it over the couscous in the bowl until the water's not quite up to the top of the couscous, and let it sit for a minute. Then fluff up the couscous with a fork and mix in the spicy tomato sauce. The couscous should turn bright orange. This is *not* the traditional steaming, but it's quick and easy.
When the vegetables are done, serve the couscous in a mound with the sauteed vegetables piled on top. Tomato and cucumber salad is traditional on the side.
Vegetarian or vegan?
Naturally vegan. You can make it simply vegetarian by adding hard-boiled eggs, or not-vegetarian by adding some roasted chicken or broiled lamb sausages if you like. Do the meat on a cookie sheet in the oven while you're cooking the rest.
And will couscous keep?
Yes, mix it all up together and leave it in a tupperware in the refrigerator, and couscous will be better the next day. You can eat it leftover cold or hot for a week.
---