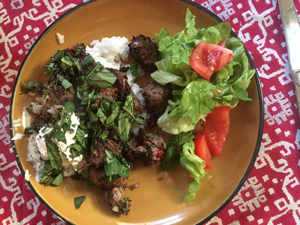 Not quite Ottolenghi
This is another in the series of recipes adapted from Ottolenghi's Jerusalem – this one, a way to use up some summer plums and basil. Ottolenghi's version called for dried figs, if that sounds better, and for mint and cilantro instead of basil. This takes about an hour.
How to make lamb meatballs with plums:
Put a pound of ground lamb in a medium-size mixing bowl and add one finely chopped onion, most of a bunch of chopped parsley, a teaspoon of salt, a large pinch of black pepper, a teaspoon of cinnamon, a teaspoon of allspice, three cloves of chopped garlic, and an egg. Mix well (might be best to use your fingers). Microwave a cup of cranberries for a minute and add them, mix, and shape into small meatballs on a plate (or two plates, really).
Heat olive oil/cooking oil in a large frying pan and brown the meatballs, turning gently with a spatula. Meanwhile, put on rice to cook. When the meatballs are browned – but not before then – add a cup of white wine, a cup of chicken broth, twenty Italian plums pitted and cut into quarters, a handful of thyme, and some more salt and pepper. Simmer about half an hour or until the sauce begins to thicken and get gummy. Serve over the rice, with plain yogurt on top. Sprinkle chopped fresh basil mixed with tarragon on top. We had it with lettuce and sliced tomato, though I think grated carrots would have been good.
Vegetarian or vegan?
Neither vegetarian nor vegan, sorry. These are meatballs. However, you could do the recipe with mashed black beans and mushrooms and it would not be all that different. Use miso in place of the chicken stock, if you go there.
And will lamb meatballs keep?
Yes, if you have any left, which we didn't. They'd keep for a few days in the fridge. Reheat in the microwave, but you'd better make fresh rice.