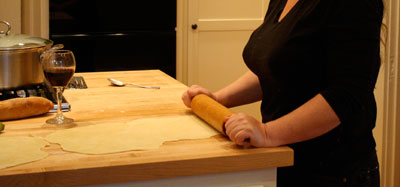 Make it quicker by making your own pasta
I used to feel lasagna took too long for a family dinner, because you had to first boil the noodles, then assemble the lasagna, and then bake it – too many steps. But now that I can make my own pasta, it's a snap.
How to make lasagna:
(takes about an hour, but you can do something else for the last half-hour)
First add some olive oil to a medium-size saucepan and saute a chopped onion with three cloves of garlic until they are soft. Add five cups of spinach (in batches if they won't fit) and saute until they wilt.
Then make the pasta: in a medium size mixing bowl, mix 3 cups of flour and a teaspoon of salt with 1/3 cup of olive oil and 3 eggs. Add water as needed. Mix until the dough pulls away from the sides of the bowl and forms a ball.
Turn out onto a floured surface and knead for five minutes. Divide into three balls and roll out each ball with a rolling pin until it is the size of your lasagna pan. I usually use a 9×12 roasting pan. (If there isn't room you can roll them out as you go.) Preheat the oven to 350 F.
Now assemble the lasagna. Cover the bottom of the lasagna pan with olive oil. Spread tomato sauce over the bottom, then lay the first of your three sheets of pasta down. Spread another layer of tomato sauce, then a layer of mozzarella cheese and a layer of ricotta cheese.
[You can make your own ricotta cheese by heating about a half-gallon of milk in a saucepan. When it feels warm, add 1/4 cup of white vinegar. It should curdle quickly; if it doesn't, add a little more vinegar. When it is all curdled, strain out the whey through a cloth and squeeze it a little. That's ricotta. ]
Then a layer of the spinach and onions. Add another layer of pasta, and repeat the layers. Add your top layer of pasta, spread the last of the tomato sauce on top, and sprinkle with Parmesan cheese.
Bake for half an hour covered (I just put a cookie sheet over the pan), and then uncovered for ten minutes more.
Vegetarian or vegan
Lasagna is vegetarian, but not vegan.
Can I keep lasagna for later?
Yes, this will be better the next day, and you can keep it in the refrigerator, well sealed up in a tupperware, for a week. It won't freeze well though.