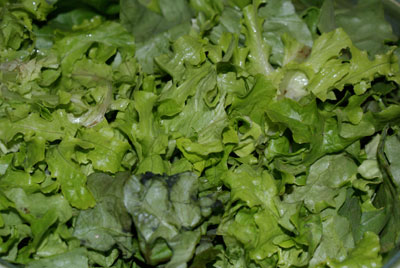 Really? Lettuce Soup?
Even though I am the world's worst gardener, one year we did have a bumper crop of lettuce, which I have never been able to achieve again. But that year we just had too much lettuce. I was desperate for ways to use lettuce that weren't salads.
One good way is Thai lettuce wraps, and another is this lettuce soup. There's a good part of early spring where lettuce, kale, chard, chives, parsley, and asparagus are your only fresh greens, and by March everyone is sick of eating root vegetables, so you should learn to make the most of the greens. Anyway, this soup is good!
How to make lettuce soup:
In a large saucepan, heat 1/8 cup olive oil over medium heat, and add a chopped onion. Stir and cook until the onion is soft and beginning to be transparent, and then add 6 cups of water, 1/2 cup of uncooked rice, a chopped carrot, one chopped stalk of celery, 1/2 pound of chopped chard stems, and 1 tsp. salt. Bring this to a boil, then cover and simmer for 15 minutes or until the carrots are tender.
When the carrots are tender, add 1/2 pound of chopped chard leaves, 4 leaves of romaine lettuce (also chopped), and a handful of spinach or arugula (or really whatever greens you have too much of lying around). Simmer 10-15 minutes more.
Add 1 teaspoon of tarragon and use an immersion blender to puree the whole thing. Reheat so it's hot, and season with salt and pepper. Serve hot with slices of bread or with a salad, to use up even more lettuce!
Vegetarian or vegan
Mmm, naturally vegan dinner! Enjoy 🙂