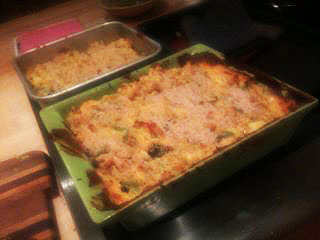 Poor people's food?
When my partner was about ten, his family was really poor for a few years following his parents' divorce, while his mom got back on her feet again. They ate a lot of macaroni and cheese, and he's always disliked it since as poor people's food. But this version certainly doesn't taste like budgets – it's not that expensive to make, but it's rich and creamy enough for anybody.
How to make macaroni and cheese:
(takes about an hour, but you can do something else for the last half-hour)
Boil a large saucepan full of water and cook a pound of macaroni with one large chopped bunch of broccoli in it. Meanwhile, grate 8 ounces of Parmesan cheese, 8 ounces of Gruyere cheese, and 8 ounces of sharp cheddar cheese. When the macaroni's tender, drain it in a colander and rinse with cold water to get the extra sticky starch off. Preheat the oven to 350 F.
Now make the cheese sauce: in a large stewpot, melt 1/2 stick of butter over medium heat. Add 1/4 cup of flour and stir with a wooden spoon until the butter and flour are mixed. Stir and cook 30 seconds more, and then begin to slowly pour in 3 cups of whole milk (or 3 cups 2 percent milk and a cup of Greek yogurt). Be careful at first not to break the sauce. Add the milk in a slow stream and make sure the butter and flour are absorbing it. You can add the last two cups faster. Once all the milk is added, keep heating and stirring until the milk is nearly boiling and thickens into a sauce. Cook one more minute, still stirring, and then add the three kinds of grated cheese. Keep stirring until it's all melted. Pour in the macaroni and broccoli, and stir until it is all mixed. Butter a casserole pan or a 9×12 roasting pan and pour in the macaroni and cheese. Scatter a layer of breadcrumbs on top.
Bake for twenty minutes covered (I just put a cookie sheet over the pan), and then uncovered for ten minutes more. If the breadcrumbs aren't browned enough after that, turn on the broiler for a minute, but watch your oven carefully so it doesn't burn and ruin the whole thing.
Vegetarian or vegan
Macaroni and cheese is vegetarian, but not vegan.
Can I keep macaroni and cheese for later?
Yes, this will be better the next day, and you can keep it in the refrigerator, well sealed up in a tupperware, for a week. It won't freeze well though.