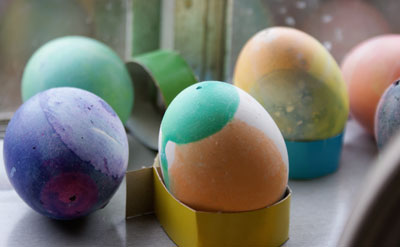 What is matzobrei?
During Passover, if you're following the rules, you can't eat bread – and that includes pancakes and waffles and toast! People eat matzoh instead. And for a brunch, instead of pancakes, they mix matzoh with scrambled eggs, and that's matzobrei. But at our house, we eat matzobrei for dinner too, because we just love it so much! My grandma served matzobrei with cantaloupe, but cantaloupe isn't locally seasonal in April, so we usually have ours with applesauce or strawberries.
Sweet or savory?
Some people eat matzobrei sweet, like pancakes, with maple syrup on top. In my family, we never do. My grandma served matzobrei plain with salt, and that's how we eat it too. But you can do as you please 🙂
How to make matzobrei:
Take two matzot for each person, and put them all in a colander. Break up the matzo into bite-size pieces (some can be bigger). Run the whole colander under running water until the matzot are soggy. Heat two tablespoons of butter in a large frying pan over medium heat. When they melt, pour in the soggy matzot and stir occasionally with a spatula. Meanwhile, crack two eggs for each person into a bowl, and mix. You can add 1/4 cup of milk per person if you like. Once you've got the eggs mixed, and the matzot are beginning to look a little drier, pour the eggs on top of the matzot and mix it all together with the spatula. Keep mixing and spreading the matzobrei out, mixing and spreading, mixing and spreading for about two or three minutes, until the egg is all cooked. Serve hot, with salt and pepper.
Vegetarian or vegan
Matzobrei is just naturally vegetarian. If you want a vegan version, you could make a tofu scramble with matzo in it instead, though I have to admit I haven't tried it.