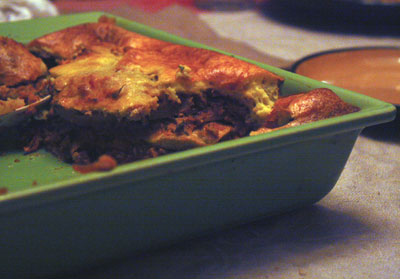 Good for company dinners
One problem of eating mostly meatless dinners is what to serve when people are coming over, to make it seem like a party. For several years we just bit our tongues and served roast beef or salmon when people came to dinner, but around here we have people to dinner nearly every weekend night, and that got to be more meat than we were willing to eat, and you can't serve people salmon *every* time they come over.
What we've settled on for now is stews like lentil stew or lamb stew, and casseroles like lasagna or this delicious moussaka. The stews are quicker to make, but the casseroles look prettier. Allow two hours to make this one: the first to make it and the second to cook it while you enjoy appetizers and a glass of wine with your guests.
How to make moussaka:
Peel two medium eggplants and slice them into rounds about 1/8 inch thick. Also peel and slice three large baking potatoes. Saute a chopped onion in 1/4 cup of olive oil in a medium-sized frying pan. When the onion is soft but not brown, add 1 can of tomato paste and 1/4 cup of water, or a cup of tomato sauce from your freezer.
Also add a bunch of chopped parsley – it's fine to use a lot of parsley here, and if it's near the end of winter you may already have a lot of parsley growing in your yard. Add 1 teaspoon of allspice (or cinnamon), and a large pinch of freshly ground black pepper.
Add two eggs and 1/2 cup of grated Parmesan cheese (the stuff in the green cans is okay here, but it will have more flavor if you use whole Parmesan and grate it). Add 3 large button mushrooms, sliced thin.
Let the tomato sauce simmer for a while, and meanwhile make the white sauce. In a small saucepan, heat another 1/4 cup of olive oil over medium heat. Add 2 tablespoons of flour, and mix with a wooden spoon until the oil and flour are well mixed, and then for another half a minute. You've made a roux.
Slowly – slowly! – add two cups of milk. You must go slowly at the beginning or your sauce will break apart and be ruined. You can go faster once you'd added the first half cup.
Cook, stirring constantly so it doesn't burn on the bottom, until the milk sauce thickens and simmers, then take the pan off the heat. Take the tomato sauce off the heat too.
Break four more eggs into a small bowl. Add a little bit of the hot milk sauce to the eggs, a drop at a time, until the eggs are pretty warm. Then slowly add the eggs to the rest of the milk sauce. Be gentle and patient. Now add another 1/4 cup of grated Parmesan and some salt and pepper to the white sauce.
Preheat the oven to 375 F. Use a little olive oil to grease a casserole dish or pie pan and sprinkle a layer of bread crumbs on the bottom of the pan. Arrange a layer of eggplant slices on top of the crumbs.
Cover that with a layer of red sauce, then a layer of potatoes, then a layer of red sauce, then a layer of eggplant, and so on until the pan is full.
Pour the white sauce over the whole thing, letting it run down and fill up any holes. Bake for an hour. Remove from oven and let the casserole stand for ten minutes before cutting so it will get more solid. Serve with a big green salad.
Vegetarian or vegan
Just naturally vegetarian! Enjoy! Sorry, I don't have a vegan version of moussaka.
Can I keep this for later?
Sure. Put the leftovers in a tupperware in the refrigerator, and the flavors will blend and it will be even better than it was at first. You can reheat it for about four or five days. You might need to add a little salt after reheating to bring out the flavors.