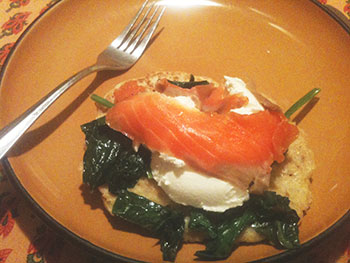 Yummy use for leftover oatmeal
In Scotland, where people pretty much lived on oats, it used to be pretty common to let oatmeal get cold and solid and then slice it up to eat for lunch. These oatmeal cakes are another version of that idea. I serve them with salmon or lox because that's another common Scottish food.
How to make oatmeal cakes with salmon and spinach:
Put three cups of leftover oatmeal in a medium-sized mixing bowl. Add three eggs and stir. Heat 1/8 cup of olive oil in a large frying pan over medium heat and ladle the oatmeal batter out into four pancakes in the oil. Let the pancakes cook until they are browned on one side, then flip with a spatula and brown them on the other side, about two minutes on each side.
Meanwhile, in another frying pan, heat 1/8 cup of olive oil and saute a bag of spinach in it. You may have to add the spinach gradually as it wilts to fit all of it in the frying pan. Use salad tongs to keep the spinach moving so the bottom doesn't burn. When all the spinach is wilted and bright green, turn off the heat.
Put an oatmeal pancake on each plate. On the pancake, put a serving of Greek yogurt, then spinach, and on top of that a piece of lox. Squeeze lemon over the top if you like. Serve with sliced apples.
Vegetarian or vegan
This can be made vegetarian by leaving out the salmon, or substituting some feta cheese for the salmon. To make it vegan, use extra water for the oatmeal and stir the oatmeal while cooking it to make it gloppy. Let it get cold and jelled, and then slice it – you won't need egg to hold it together. Use capers with the spinach instead of salmon or feta cheese, and substitute garlic tahini sauce for the Greek yogurt.