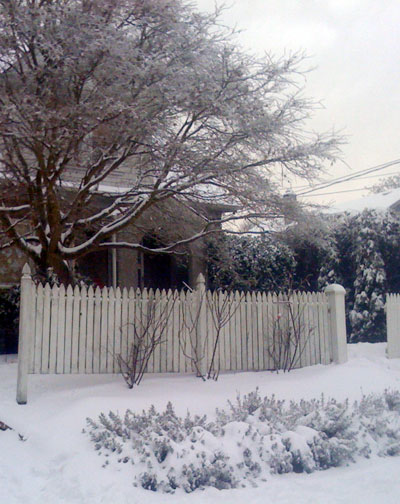 A slow food recipe
The most important thing about onion soup is to take your time caramelizing the onions, slowly stirring them until they turn dark brown and very sweet. Do it on a cold day, when it's nice to stand over a hot stove in a warm kitchen.
How to make onion soup
Start by making a quick loaf of bread.
In a medium-size frying pan over medium heat, pour about 1/8 cup of olive oil. Add four chopped onions, five minced cloves of garlic, and a large pinch of salt and stir, and keep stirring pretty often for about half an hour or until the onions are soft and dark brown.
When the onions are caramelized, add a can of whole tomatoes, or four whole frozen tomatoes from your freezer. Add 3 cups of water, a cup of red wine, and (if you want) a cube of beef bouillon. Simmer until the tomatoes are melted and blend into the soup, about another half an hour.
By now the bread should be done. While the soup simmers, cut slices of the fresh bread and put them on a baking sheet. Put thin slices of Swiss, Gruyere or Emmenthaler cheese on the bread and run it under the broiler for a few minutes until the cheese melts. Put two or three rounds of cheesy bread into each soup bowl.
When the soup is done, taste and adjust the salt and add black pepper to taste. Ladle the soup over the cheesy bread and serve hot.
Vegetarian or vegan
Onion soup is vegan if you don't put the beef bouillon cube in, but if you put the cheesy bread in then it's just vegetarian. Eat thyme bread with it instead. Or use vegan cheese.