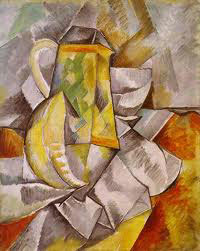 "Like a Braque still-life"
I've always liked the description of ratatouille in the Joy of Cooking where she says that the bright colors all together look like "a Braque still-life". It's true that ratatouille is a beautiful thing to put in front of guests, and you can make it before they arrive and leave it to simmer until it's time to eat.
How to make Ratatouille:
Start by peeling and chopping an eggplant into dice-sized pieces. Also chop a green bell pepper, two zucchini, and three tomatoes. In a medium-sized frying pan, heat 1/4 cup of olive oil. Saute a chopped onion and five cloves of minced garlic. When the onion begins to soften, add the eggplant, pepper, and zucchini.
You'll then need to add either another 1/4 cup of olive oil or a cup of leftover chicken soup or a cup of water, depending on how fatty you want your ratatouille to be. Cook over medium heat, stirring frequently, for about ten minutes or until the zucchini and eggplant are soft.
Add the tomatoes and another cup of water. You can also add some sweet corn (cut off the cob) if you like. Reduce heat to low and simmer, covered, for half an hour. Serve over polenta or couscous (if you are going to serve it over polenta, don't put corn in). Serve with a green salad.
Vegetarian or vegan?
Naturally vegan. You can make it not-vegetarian by adding a can of tuna or some canned anchovies if you like.
And will ratatouille keep?
Yes, like most stews ratatouille is actually better the next day when the flavors have had a chance to blend. You can microwave it to heat it up. It doesn't freeze well though.