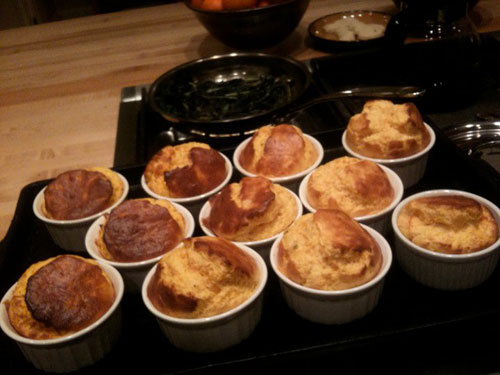 Can you make it fall?
The kids heard some-where that you could make souffles fall flat by jumping in the kitchen while they were baking, and they tried it, but the souffles rose anyway. So don't worry.
How to make squash souffles:
Preheat oven to 400 F. Cut a butternut squash in half and scoop out the seeds; put both halves in the oven to bake for an hour. Meanwhile, butter ten ramekins or teacups and arrange them on a baking sheet.
When the squash is soft and a little caramelized (browned), take it out and let it cool. Meanwhile, separate five eggs. Melt six tablespoons of butter in the microwave in a medium-sized mixing bowl. Peel the skin off the squash and add the cooked squash to the butter and mash it with a potato masher.
Add the five egg yolks, 1 teaspoon of salt, 1/2 teaspoon of pepper, 1/2 teaspoon of cayenne, 3/4 cup of flour, and 3/4 cup of whole milk (or a cup of 2% milk and 1/4 cup of Greek yogurt). Mix all together. If you want, add a cup of chopped red bell peppers.
Beat the egg whites until they are stiff and fold them in to the squash mixture. Ladle the squash mixture into the buttered ramekins nearly up to the tops. Bake the souffles about twenty minutes. They'll be all puffed up with hot air. Serve immediately, before they begin to deflate, with cranberry sauce on the side.
Vegetarian or Vegan?
These make a great vegetarian main course with a salad on the side, but they're not vegan. For a seasonal vegan substitute, try squash risotto.
What can I do with leftover squash souffles?
They're a little chewier and less puffy, but still very good reheated in the microwave the next day, or really for about a week.