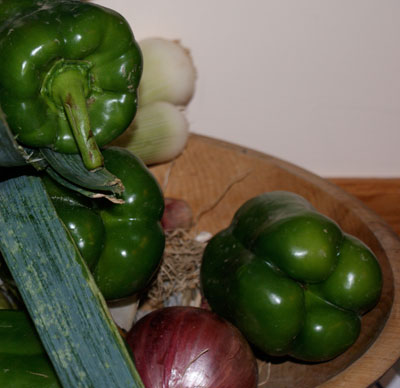 Easy to serve at parties
These stuffed peppers take a while to make, but you can make them the day before and then just heat them in a low oven (at about 250) for the party, and set them out on trays. Then they are easy for your guests to serve themselves, and it doesn't matter if they're lukewarm. The recipe is for a family, though, so you'll have to double or triple it for a party.
How to make Stuffed Peppers:
(this takes about two and a half hours to make and bake, so allow enough time).
Preheat oven to 400 F. Begin by cooking two cups of rice with four cups of water in a large saucepan. Use high heat until the water boils, then simmer over low heat until the rice has absorbed all the water, then turn off the heat. Meanwhile, cut four green bell peppers in half across the middle so that the stem is all on one half and the bottom all on the other half. Remove the seeds and put them in the compost.
Arrange the pepper halves cut side up side by side in a 9×13 roasting pan or a casserole. In a frying pan, add a little olive oil and saute one chopped onion with two cloves of garlic until they're soft.
Go back to the big saucepan with the cooked rice. Add the onion and garlic, 1/4 cup of olive oil, a can (6 ounces) of tomato paste, a handful of chopped fresh mint, any other greens you want, a teaspoon of salt, and 1/2 teaspoon of pepper. Mix, and then squish this filling into the pepper shells. It's okay if they're heaped pretty high. Pour the juice of one lemon over the top.
Put the roasting pan in the oven, and then pour a cup of water into the pan around the pepper shells. Put a baking sheet on top of the roasting pan to keep the stuffed peppers from drying out. Bake for 1 1/2 hours.
As soon as the peppers are out of the oven, make an avogolemeno sauce to go with it. Serve the stuffed peppers with the sauce, and with a big tomato-and-cucumber salad.
Vegetarian or vegan?
Naturally vegan, unless you use the avgolomeno sauce. If you want a vegan sauce, you could just use plain lemon juice, or mix tahini with lemon juice, water, and salt. If you'd rather this had meat in it, mix 1/2 pound of ground lamb with the filling.
And will stuffed peppers keep?
Yes, stuffed peppers are actually better the next day when the flavors have had a chance to blend. You can microwave them to heat them up, or heat them in a low oven (about 250). They don't freeze well though.