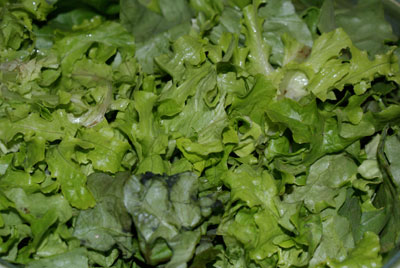 Why lettuce?
When you just have too much lettuce in your garden, or you want a low-carb meal, or you want the fun of everyone assembling their own dinner at the table – actually, there are a lot of reasons to enjoy Thai Lettuce Wraps!
How to make Thai Lettuce Wraps:
Make rice: in a small saucepan, put one cup of rice and two cups of water. Cook over high heat until the water boils, then reduce the heat to medium-low and simmer until the rice has soaked up all the water and the rice is soft.
Make peanut sauce: in a small bowl, mix 1/4 cup of peanut butter with 1/4 cup of soy sauce and two tablespoons of rice wine vinegar. Warm up the mixture a little in the microwave (about 20 seconds) and that will make it easier to stir and more fun in the lettuce wraps.
Set out a platter with a lot of nice lettuce leaves, not too small.
But the real point is all the little toppings:
Serve the rice in a bowl, and the warm peanut sauce in another bowl, with tiny bowls of crushed roasted peanuts, shredded cilantro, grated carrot, chopped onion, fresh bean sprouts, tofu cut into little sticks, and hot sauce. If you're not vegetarian, add a bowl of tiny pink shrimp. If you want, you can fry the tofu in a little oil to make it more exciting.
Let each person at the table take their own lettuce leaves and wrap up whichever of these things they like in their leaf, and eat it with their fingers.
Vegetarian or Vegan?
Leave out the tiny shrimp, and it's all vegan.
Will lettuce wraps keep?
You can keep most of the fillings around, and then pick some more fresh lettuce leaves the next day.