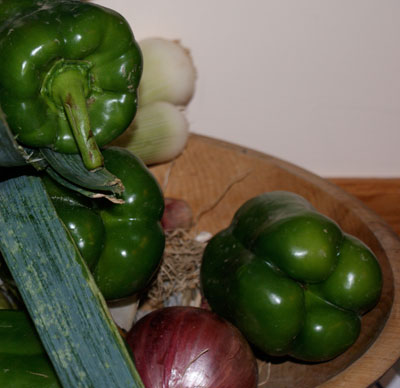 Tofu Fried Rice for all Seasons:
In the summer, I make this stir-fry with bell peppers, as in the recipe below. But in the fall and winter, I use shredded cabbage instead, and it's even more popular.
How to make Tofu Fried Rice:
Start by putting on the rice: in a small saucepan, put 1 1/2 cups of rice and 3 cups of water. Stir, cover, and heat over high heat until it boils; then turn the heat down to medium-low and let it simmer until the rice has absorbed all the water and the rice is soft.
While the rice is cooking, chop an onion, two bell peppers, and three cloves of garlic. Also grate some fresh ginger root. I use a microplane to grate the ginger. Then pour some olive oil (or vegetable oil) in a large wok or large frying pan. Heat the oil over medium heat and add the onions and peppers. Stir with a wooden spoon until the onions and peppers begin to soften. Then add the garlic and ginger, and cook. Meanwhile, cut a package of firm tofu into bite-size pieces. When you begin to smell the garlic and ginger well, add the tofu and stir and cook a minute more. Add 1/4 cup of brown sugar, 1/4 cup of soy sauce, and a cup of cashews and keep stirring.
When the rice is done, add it to the stirfry and stir the whole thing for a couple more minutes. Serve hot, with chopsticks.
Vegetarian or vegan?
Naturally vegan. If you don't care whether it's vegan, try stir-frying shrimp or chicken instead of the tofu sometimes.
How long will stir-fry keep?
It's very good reheated for lunch in the next day or two; after that you should get rid of it.