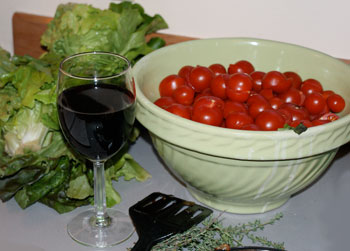 Not Apple Tarte Tatin?
A Tarte Tatin is usually made with apples, but this is a savory version, perfect for a summer dinner. Most of it can be made ahead, before your guests arrive, but a Tarte Tatin is baked upside-down, with the crust on top, and then you have to flip it in an exciting and dangerous moment just before serving. Amaze your company with your skill!
How to make Tomato Tarte Tatin:
(This takes about two hours, but the last half-hour is just baking.)
Take a pound of the best cherry tomatoes you can find and cut each of them in half. Heat 1/8 cup of olive oil over medium heat in a medium-size oven-proof frying pan. Add 1 chopped onion, and cook slowly, stirring often, until the onions are caramelized (brown), about 15-20 minutes. Add two tablespoons of water and cook the water off, scraping the brown bits from the bottom of the pan. Pour the onions into a bowl and wash and dry the frying pan.
Put 1/4 cup of sugar and 3 tablespoons of water in the clean frying pan. Cook the sugar-water over medium heat, swirling the pan gently (but *do not stir*) until the sugar melts and turns amber brown, about 5-10 minutes. It will seem like it is never going to turn brown, but then it suddenly does.
When the sugar browns, add 1/2 teaspoon of vinegar and swirl gently to mix. Scatter the tomatoes on top of the caramelized sugar (do not mix), then scatter the caramelized onions on top of the tomatoes. Add 1 teaspoon of chopped thyme leaves from your garden, and salt and pepper to taste.
Preheat the oven to 425 F while you make phyllo dough. Lay one layer of phyllo dough on top of the tomatoes, tucking in the edges. Brush generously with olive oil and put on another layer of phyllo dough. Continue for four or five layers. Make several long gashes in the dough to let steam out while your tart is baking, and bake for 30 minutes.
Remove the tart from the oven and let stand for five minutes to cool. Run a knife around the edges of the pan to loosen the tart. Put a large plate over the frying pan, hold the plate and the frying pan tightly together using oven mitts, take a deep breath, and flip the whole thing over. (It's not a bad idea to have long sleeves on, just in case.) Lift off the frying pan, and you should have a lovely tomato tart on your plate.
Note: be careful! The tart is hot! Though usually I don't get burned during the actual flipping, but earlier, right after I take the frying pan out of the oven, when I forget that the handle is hot. So be careful of that, too.
Vegetarian or vegan?
Naturally vegan, and a great fancy main dish for company!
How long will Tomato Tarte Tatin keep?
Tomato Tarte Tatin will be good the next day, but after a while it may get soggy and unappetizing. To serve to company, you want to serve it immediately after flipping it.