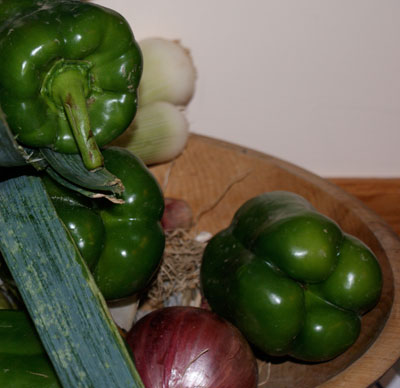 Need something quick and hot?
My grandmother's stuffed cabbage is great if you were going to be home all day and want to spend a lot of that time cooking and watching a pot slowly simmer your stuffed cabbage into yummy goodness. But if you want something that tastes pretty much the same but you can make it after you get home from work, this is unstuffed cabbage – stuffed cabbage deconstructed so you can make it in just a few minutes.
How to make unstuffed cabbage:
Start by making rice. Put 1 1/2 cups of rice in a small saucepan with 3 cups of water. Cover and heat over high heat until the water boils; then lower the heat to medium-low and wait until the rice has absorbed all the water.
While the rice is cooking, start the cabbage. Chop 1/2 a cabbage (taking out the hard core), a green pepper, and an onion. In a medium-size frying pan, heat 1/4 cup of olive oil and saute the onion. When the onion begins to soften, add the cabbage and green pepper. As they cook, slice up three or four mushrooms and add those. When the cabbage is getting soft, add a pint of homemade tomato sauce or a can of whole tomatoes. Squish the whole tomatoes. Flavor with 1/2 teaspoon of sour salt (if you have it), or the juice of half a lemon. Serve over the rice, with candied carrots or grated carrots or beet slaw on the side.
Vegetarian or vegan
Just naturally vegan! Enjoy! You can make this a meat recipe by adding 1/4 pound of lamb to the chopped onions at the beginning of the recipe.
Can I keep this for later?
Sure. Put the leftovers in a tupperware in the refrigerator, and the flavors will blend and it will be even better than it was at first. You can reheat it for about four or five days. You might need to add a little salt after reheating to bring out the flavors.