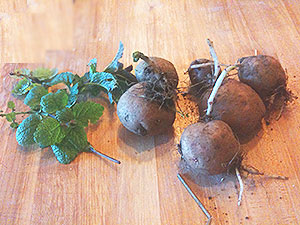 Looks like jewels
This beet slaw is a super easy side dish, goes with lots of different dinners, and shines like a bowl of precious stones on your table. Also, it's delicious and unexpected.
Be careful, though, what you touch while you're working and serving beet slaw. Beet juice stains really badly. Watch out for your dishcloths, your clothes, and your tablecloths!
How to make beet slaw:
Cut off the tops and the long tails, peel two beets, cut them into chunks, and grate them in the food processor. Add the juice of half a lemon, 1/8 cup of olive oil, and salt to taste. Serve cold, maybe to go with unstuffed cabbage or lamb stew.
Vegetarian or vegan
Beet slaw's completely vegan, no worries! If you want another vegan way to cook beets, try this beet salad with lettuce.
Can I keep beet slaw for later?
Well, you can eat it for the next few days, but it begins to look a little tired. It's better fresh.