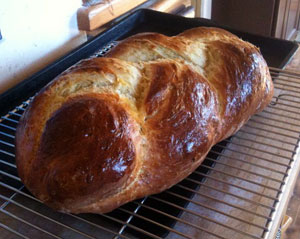 Friday night bread
Traditionally, Jewish women bake two loaves of challah (my grandmother pronounced it "holly") bread on Fridays, and you eat it for a fancy Shabbat dinner on Friday evenings. I don't usually have time to bake on Fridays when I'm working, but I do try to make challah at least for Rosh Hashonah, the Jewish New Year in September. For Rosh Hashonah, people bake challah in a round shape to symbolize how the years go around.
P.S. I make challah more now that I realized it's still pretty good with only one rising, and a lot faster!
Challah or brioche?
Challah is a variation of brioche using oil instead of butter, so it will be kosher with a meat meal. If you don't care about that, you can go ahead and use butter in this recipe, and it will be brioche.
How to make challah:
Start about 2 1/2 hours before dinnertime. In a medium-size mixing bowl mix 7 cups of flour, 4 tsp. instant yeast, 1/2 cup sugar, 1 teaspoon kosher salt with a wooden spoon. Add 1/2 cup safflower oil, 5 eggs, and 2 cups of water, and mix again until the dough forms a ball and pulls away from the sides of the bowl. This dough will be softer than regular bread dough.
Turn the dough out on to a floured counter, and if the dough seems too wet add some more flour. If the dough is too dry, make a well in the center and slowly add a little more water. (Weather conditions affect how much water is already in the flour, so this varies depending on local weather.) Knead the dough, adding more flour as needed, until it is very stretchy but not sticky.
Divide the dough into seven smaller balls and roll each ball out between your hands into a rope about a foot long. Put four of the ropes on a greased cookie sheet and pinch all their ends together at one end. Braid the four ropes together, and pinch the ends together.
Now braid the other three ropes together in the same way, and put the second braid on top of the first one, squashing them together a little. It's okay if this is not very neat. Or, make two braided loaves side by side. Cover it all with a dishcloth and let the challah rise for an hour.
Meanwhile, preheat the oven to 375F and break an egg into a bowl. Use a pastry brush to brush the egg all over the top and sides of your challah. Bake about 45 minutes (less time if two loaves) until the challah is a beautiful golden brown and when you tap it on the bottom it sounds hollow. Let it cool for 15 minutes before you rip into it. No, really.
Some ways to use your bread
Eat this bread plain; it's really almost like a cake. It's good with coffee or tea for breakfast. Some people slice challah bread and make french toast with it, but in my family you rip chunks off your challah instead of slicing it.
Vegetarian or vegan
Just naturally vegetarian! Enjoy! I don't think it's a good idea to try to make vegan challah: instead, make bread which is also very good 🙂 or for something sweet and Rosh-Hashonah-appropriate make vegan apple pie.
Can I keep this for later?
Challah gets stale quickly; it will be fine the next morning, but if you want to keep it longer you'd better wrap it in plastic and keep it in the refrigerator. Even so, you don't have more than a couple of days. Just go ahead and eat it.