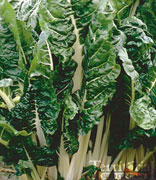 Delicious no-salt chard
I recently ate this chard at a friend's house, and he was bragging about how it didn't have any salt in it. It was delicious, and I asked for the recipe. "Oh, you just saute it in olive oil," he said. "Liar," I said. In the end, he admitted there was more to it than that.
How to make sauteed chard:
Chard is a little more complicated to cook than spinach, so if you want something easier, make spinach. But chard's not so hard either.
Set a large saucepan on high heat with about an inch of water in the bottom of the pan. Take a bunch of Swiss chard, and chop off the very bottoms of the stems. Peel off some of the thick stem of each leaf, like peeling celery, to help the stems soften. When the water boils, put the chard in the water and cover the pot with a lid. Let the chard steam for about ten minutes.
Take the chard out of the water, shake it off, and spread it out to dry a little. You can pat it with a dish towel too, but it doesn't have to be completely dry. Meanwhile, heat about 1/8 cup of olive oil in a medium-size frying pan over medium-high heat. Add three minced cloves of garlic and stir for a minute.
Put the chard in the frying pan and saute until the chard is wilted and soft, about two minutes.
Vegetarian or vegan
Sauteed chard is completely vegan, no worries! To make it more of a meal, mix it with boiled potatoes. If you don't mind cheese, grate some good Parmesan over the top. If you want a meat-eater's meal, add chunks of ham or sausage to the chard and boiled potatoes.
Can I keep sauteed chard for later?
It's really not good left over on its own. You can add it to something else like chickpeas in tomato sauce.